Ayurveda follows a holistic approach, regardless of where and what your present complaints are, Ayurveda considers your whole constitution. It acts therefore particularly effective in the long-term recovery and thus, for a long and healthy life.
Ayurveda teaches that a disease never appears as a single phenomenon, it is rather the result of unhealthy habits, accumulated over several years. Therefore a person is diagnosed as a whole. The Ayurveda diagnose includes for example pulse diagnosis, tongue diagnosis, eye diagnosis, urine tests and a general physical examination, regardless of where in the body area the present complaints are. The holistic diagnostic serves to determine the individual constitution, the ratio of the Dosha's in the patient. Thus, an ayurvedic doctor examines the constitution of a person precisely in order to be able to determine the required treatment and make the right selection from the variety of Ayurvedic treatments.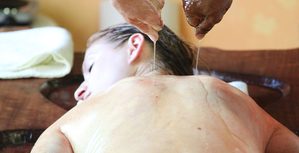 Massages and
detoxifying
the body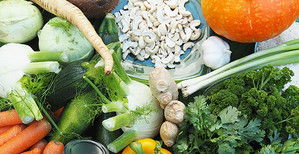 AYURVEDIC
NUTRITION
RECOMMENDATIONS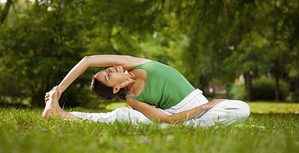 YOGA AND
RELAXTION
EXERCISES
Ayurvedic massages discharge toxins from all cells of the body by usage of various oils and herbs. The various techniques are usually very pleasant and beneficial. Another way of detoxification is the treatment with rice, grain and herb stamps. By applying these methods, pain and other symptoms can be treated selectively, in order to be eliminated.
You are what you eat! Some people can eat large amounts without gaining weight. For others, it is just the reverse. Ayurveda teaches that the reason for this is founded in the ratio of the three Dosha's, with which we are born. Who knows his Dosha ratio, can nourish himself correspondingly to it, and following regulate its own weight. Also we offer plant-based ayurvedic dietary supplements that are tailored to your individual Dosha ratio. The supplements can help your body to find itself back into your healthy balance and thus to be free of unpleasant symptoms.
In Ayurveda, regular appropriate exercise is an important pillar of Health. It has a harmonizing effect on the three Dosha's. By moving one's body, tensions and blockades are easing, one's flexibility increases, and concentration and energy grow. In a few words, movement is strengthened the live-energy. Body and mind are able to heal faster and easier through exercise. Yoga exercises are an integral part of Ayurveda. Like 13 Ayurveda, the Yoga is a thousand-year-old system that originates in the Vedas
The ever-accelerating pace of our everyday life, the permanent demand for efficiency and the complex working and living conditions require us increasingly more energy than is good for us. This may fall into a permanent imbalance of the Dosha's. The ayurvedic medicine offers help for this problem. It has proved itself over the millennia, especially in the prevention and chronic disease. More and more people are finding the benefits of Ayurveda, which brings together the physical and mental practice and can be wonderfully integrated into modern life.